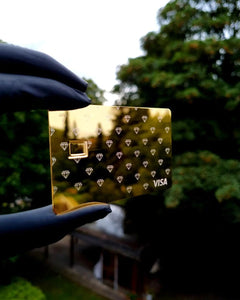 Convert Plastic Cards to Custom Metal Cards
Your credit and debit cards are vital since you use them to perform transactions, but they are prone to damage over time. That's definitely something you would like to avoid!
You don't have to worry about it, though, because you can convert the card into a Custom Metal Credit Card with CardRare.
The heaviness and feel of a custom luxury metal credit card are both pleasant. A metal card stands out from its plastic counterparts for a variety of reasons, including the cache that comes with possessing one and the sound it makes while sharing the bill with others.
Here are a few additional benefits of buying Custom Metal Credit Cards from us
Did you know that Metal Bank Cards are actually more secure? Yes, it is true and if you care about security than a metal card is the perfect option for you.
We are a business that believes in providing security and safety since we understand how important your financial data and information are. You can anticipate complete security from us.
Our metal cards are also rustproof, so you don't have to worry about rusting.
We make every effort to convert the cards into metal cards as soon as possible since we do not want our clients to be stranded during the event. We know that time is money.
Everyone wishes to be treated special. We know that many people care about the appearance of their card, and it's indeed a valid reason why people wish to convert their cards: so they can carry a personalized luxury card in their wallet, present it to the server or waiter, or show it to their friends. It has a very positive impact on the people as you can imagine.
After all converting your plastic debit and credit cards to metal credit cards is the best way to upgrade them. Still not convinced? Check our social media pages and see it yourself. Make sure you read our FAQ before placing an order.
---